Last seen:
6 days ago
Last week:
0 hours
Total:
25 hours
Avg. rating:

BmxSpecks
The Rabble Rouser
Send Message
---
Hey i'm bmxspecks an aspiring season 7 NA LCS Jungler, previously 1100lp(Rank3) Challenger in season 6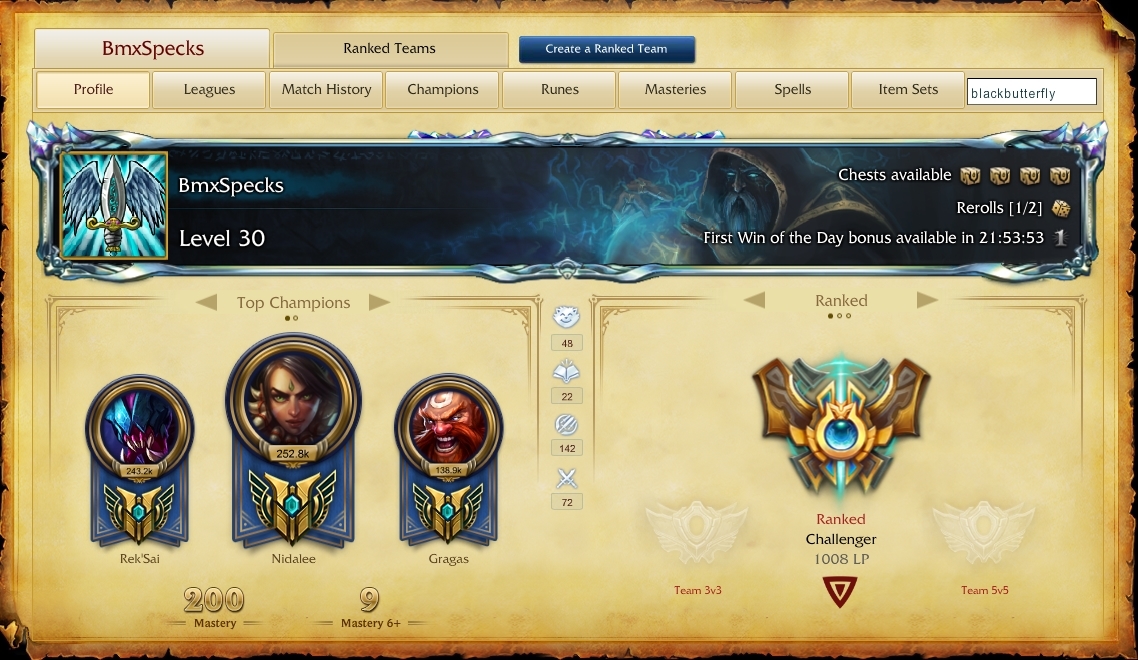 Methods of Coaching


Replay review with skype call and skype screen share


A live session as you play communicating on skype and spectating either through your hitbox 3 second delay stream, or skype share


Verbal session going over your champion pool, runes, masteries, roles, playstyle of your champions


POV recording is good to see what you were focused on but limits understand of whats going on around the map (recommended for multiple lesson student)


replays are good for getting the full understand of the game but dont show me what you were thinking/seeing during the game (Good for single lessons)


Top champions
Roles
Languages
Purchase
After purchase we will send all necessary informations to your paypal email (access to members area, contact details with coach).
---
(after 4 hours)
awesome helped alot hoping to see him soon
---
(after 1 hour)
I personally like bmx, he is smart how he approaches his lessons. He took the time to even answer my questions. Very helpful and friendly. i recommend him to be your coach.
---
---
(after 1 hour)
very helpful!!
---
---
(after 1 hour)
really good
---
(after 3 hours)
Excellent advises!
---
---
---
(after 1 hour)
Not sure why I have to review every session as they're all great.
---
Champion
Wins
Defeats
Win Ratio
Kills
Deaths
Assists
K/D/A Ratio
Creeps
Wins: 807 Losses: 755 Total Kills: 7679 Total Deaths: 6553 Total Assists: 13248
145
144
50%
1596 (5.5/game)
1199 (4.1/game)
2289 (7.9/game)
3.24
46/game
146
97
60%
1319 (5.4/game)
762 (3.1/game)
2171 (8.9/game)
4.58
62/game
96
66
59%
1103 (6.8/game)
579 (3.6/game)
1145 (7.1/game)
3.88
51/game
81
81
50%
672 (4.1/game)
616 (3.8/game)
1462 (9/game)
3.46
54/game
83
63
57%
1021 (7/game)
692 (4.7/game)
925 (6.3/game)
2.81
82/game
42
46
48%
207 (2.4/game)
468 (5.3/game)
1159 (13.2/game)
2.92
24/game
45
43
51%
173 (2/game)
396 (4.5/game)
1073 (12.2/game)
3.15
54/game
35
49
42%
350 (4.2/game)
386 (4.6/game)
567 (6.8/game)
2.38
177/game
40
39
51%
480 (6.1/game)
369 (4.7/game)
627 (7.9/game)
3
50/game
14
21
40%
221 (6.3/game)
198 (5.7/game)
218 (6.2/game)
2.22
54/game
14
15
48%
24 (0.8/game)
95 (3.3/game)
355 (12.2/game)
3.99
19/game
15
13
54%
62 (2.2/game)
132 (4.7/game)
345 (12.3/game)
3.08
43/game
7
7
50%
37 (2.6/game)
60 (4.3/game)
66 (4.7/game)
1.72
157/game
9
5
64%
79 (5.6/game)
52 (3.7/game)
76 (5.4/game)
2.98
52/game
5
8
38%
19 (1.5/game)
74 (5.7/game)
162 (12.5/game)
2.45
43/game
4
6
40%
44 (4.4/game)
46 (4.6/game)
81 (8.1/game)
2.72
61/game
3
6
33%
47 (5.2/game)
35 (3.9/game)
67 (7.4/game)
3.26
42/game
3
5
38%
36 (4.5/game)
34 (4.3/game)
57 (7.1/game)
2.74
56/game
3
4
43%
24 (3.4/game)
39 (5.6/game)
67 (9.6/game)
2.33
30/game
3
3
50%
21 (3.5/game)
30 (5/game)
39 (6.5/game)
2
175/game
2
3
40%
16 (3.2/game)
29 (5.8/game)
32 (6.4/game)
1.66
38/game
1
3
25%
16 (4/game)
23 (5.8/game)
15 (3.8/game)
1.35
193/game
2
2
50%
24 (6/game)
25 (6.3/game)
18 (4.5/game)
1.68
219/game
1
3
25%
8 (2/game)
33 (8.3/game)
32 (8/game)
1.21
48/game
2
1
67%
7 (2.3/game)
16 (5.3/game)
34 (11.3/game)
2.56
88/game
0
3
0%
7 (2.3/game)
25 (8.3/game)
19 (6.3/game)
1.04
119/game
0
2
0%
9 (4.5/game)
12 (6/game)
13 (6.5/game)
1.83
231/game
0
2
0%
3 (1.5/game)
12 (6/game)
6 (3/game)
0.75
104/game
1
1
50%
6 (3/game)
17 (8.5/game)
12 (6/game)
1.06
49/game
1
1
50%
2 (1/game)
10 (5/game)
24 (12/game)
2.6
43/game
0
2
0%
9 (4.5/game)
20 (10/game)
10 (5/game)
0.95
154/game
0
2
0%
4 (2/game)
7 (3.5/game)
5 (2.5/game)
1.29
198/game
1
1
50%
2 (1/game)
9 (4.5/game)
10 (5/game)
1.33
73/game
0
1
0%
0 (0/game)
8 (8/game)
6 (6/game)
0.75
6/game
0
1
0%
0 (0/game)
2 (2/game)
3 (3/game)
1.5
122/game
0
1
0%
1 (1/game)
6 (6/game)
3 (3/game)
0.67
190/game
0
1
0%
0 (0/game)
7 (7/game)
2 (2/game)
0.29
131/game
0
1
0%
2 (2/game)
3 (3/game)
6 (6/game)
2.67
144/game
0
1
0%
2 (2/game)
8 (8/game)
3 (3/game)
0.63
127/game
1
0
100%
1 (1/game)
0 (0/game)
8 (8/game)
9
53/game
0
1
0%
16 (16/game)
6 (6/game)
18 (18/game)
5.67
143/game
1
0
100%
2 (2/game)
6 (6/game)
7 (7/game)
1.5
89/game
0
1
0%
5 (5/game)
5 (5/game)
6 (6/game)
2.2
175/game
1
0
100%
2 (2/game)
2 (2/game)
5 (5/game)
3.5
124/game